Private Lesson Rates
Starting at $96 / Month
Private lessons are based on 4 lessons per month for half hour, 45 minute, and 1 hour lessons. We accept pre-authorized payments by Visa, Mastercard, and Direct Debit.
Teacher schedules and availability are subject to change and private lesson spots can not be held without payment.
Half Hour Lessons - $96-$139/Month*
45 Minute Lessons - $150-$209/Month*
1 Hour Lessons - $199-$277/Month*
*Rates vary by instructor based on experience and skill level.
Register Today
Meijun
Clarinet & Piano • St. Albert
Meijun is an award-winning clarinetist with experience at international performances in more than 15 countries. She has performed in Vienna at the Golden Hall, The Chicago Symphony Center in Chicago Illinois, and Winspear Center in Edmonton and is excited to share her passion and skills to students of all ages.
Meijun enjoys teaching all ages and welcomes beginners, intermediate and advanced clarinet and piano students.
Kristin
Piano • Edmonton
Kristin (ARCT, ARMTA) has been teaching piano for 35 years and has sought out her education throughout Canada studying with the likes of Andrew Markow and Edward Parker. A winner of the prestigious Florence Bowes piano competition, she has extensive experience in performance and accompanying and has successfully guided students through RCM examinations and music festival competitions with great success in Toronto and Saskatoon.
Kristin believes that versatility and carefully structuring lessons to suit the needs of each student is the key to a successful musical experience, while still taking a thorough approach through the many aspects of music to develop a well rounded musician.
Her good humour, patience and kindness encourage a nurturing environment for her students to thrive.
Cari
Piano • St. Albert & Edmonton
Cari is a graduate from the University of Alberta with a Master of Music in Organ Performance, and is highly skilled in all keyboard instruments. She is the Organ Scholar at Holy Trinity Anglican Church in Edmonton.
Cari is an active performer in and around Edmonton. She has participated in concerts at the Winspear, performed with Da Camera Singers, and performed concerts in the Edmonton Royal Canadian College of Organists' Organic Series. Cari has diverse experiences in teaching piano and organ, as well as experience in the area of accompaniment.
Anne
Piano & Voice • Edmonton
https://www.facebook.com/visionarycentreAnn is currently attending the University of Alberta where she is in the Bachelor of Music Program majoring in voice. From a young age Ann has had a love of studying and performing in piano and voice. Her musical background is heavily based in classical music but she enjoys performing pop and musical theatre.
Ann is excited to provide students with a solid basis in technique while instilling a love of music. She enjoys working with children and is very eager to use her experiences in music to teach and help children build new musical experiences of their own.
Tina
Piano • Edmonton
Tina is a student at the University of Alberta where she is currently majoring in sociology. She has completed her Grade 10 RCM exam. Though her musical background is largely based in classical music, Tina has dabbled in jazz and pop music.
Tina has experience working with children from a variety of backgrounds through her work with youth homeless shelters and Big Brothers Big Sisters. Her adaptability makes her an ideal teacher for young students wanting to explore a variety of musical genres.
Carolina
Piano • St. Albert
Carolina has been playing the piano since the age of 6. She has performed at various recitals, competitions, and a concert with the Symphonic Ocrchestra of the Universidad Autónoma de Guadalajara. She has a Bachelor's Degree in Business Administration from the Universidad Autónoma de Guadalajara and a Master of Science in Administration from Central Michigan University. She is currently an MBA candidate at the University of Alberta.
She has a long history of volunteer work and entrepreneurial endeavours, she had previously been a member of the Chamber of Commerce in Guadalajara and is currently Chair External of the Governance Committee of the MBA Association and the Chief Returning Officer and a member of the Elections and Referenda Committee of the Graduate Students' Association at University of Alberta.
Tatiana
Voice & Piano • Edmonton
Tatiana is currently completing her Bachelor of Music in Voice Performance at the University of Alberta. She has six years of classical vocal training. Tatiana plays piano, accordion and guitar. Her musical background is mainly based in classical music, but she also has significant experience in performing musical theatre, folk, pop, and other genres of music, performing as a soloist and with various ensembles. She is very excited to share her passion for the performing arts, help students develop healthy vocal technique and ignite the love for music in others.
Andrea
Voice, Musical Theatre, & Piano • Edmonton
Andrea started as a long time student at Visionary and has graduated from the Theatre Arts Program at MacEwan University. Andrea is an award winning vocalist who has performed locally with St Albert Theatre Troupe and in the Edmonton Fringe. Some musicals that she has done recently include "Carrie - The Musical" "Young Frankenstein" and "The Light in the Piazza." Andrea's energy and enthusiasm make her a great teacher for kids and teens.
Rayne-Anne
Voice, Early Childhood, & Piano • Edmonton
Rayne-Anne attended Visionary College for over 9 years, studying voice, piano, guitar, and violin. She started writing music at a very young age and at 15 she won the EFCL (Edmonton Federation of Community Leagues) competition for singer-songwriter and recorded her first CD at 16. Rayne completed a B.F.A at the University of Lethbridge and is currently attending Grant MacEwan University studying Public Relations as well as performing around the city with her band - Wandering Lines. She has a burning passion for music and song writing and loves to teach and share her passion for all styles of music.
Guitar, Bass, & Drum Teachers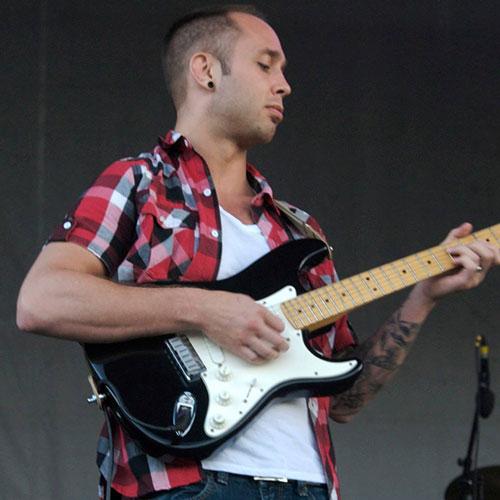 Tayler
Guitar & Drums • Edmonton
Tayler just finished his third year at the University of Alberta majoring in Education. He began playing guitar at a young age with a beginning in classical guitar styles before moving on to electric guitar. Tayler's love of teaching and music bring an infectious enthusiasm to his lessons.
Violin, Viola, & Cello Teachers
Kasia
Cello - Edmonton & St. Albert
Kasia is a former Principal Cellist of the Orchestras in Szczecin, Poland and in Poznan, Poland. She has performed in many countries including Spain, Denmark, Sweden, Austria, Germany, and Holland. She has years of professional experience both as a musician and an instructor which makes her a superb cello teacher.
Kasia wants to share her passion for playing cello in a way that is most rewarding for each of her students.
Karen
Violin, Viola, & Voice - Edmonton
Karen is a talented vocalist, songwriter and fiddle player. Karen has performed as both a soloist and a group musician for the past two decades. Karen and her group, The Crow Girls, received a 2008 Native American Music Award for Best Folk Recording. The 2007 Canadian Folk Music Awards nominated them for Best Aboriginal Songwriter. She has traveled widely and performed internationally. Performances include; The Canadian Aboriginal Achievement Awards, the International Society for Music Education in Pretoria, South Africa, and the International Day celebrations in Gwangju, South Korea.
Recently, Karen had the honor of playing the fiddle and performing background vocals for Laura Vinson's 2011 and 2013 The Spirit Sings tour. The show was well received in both the Netherlands and Belgium. Currently, Karen is working on a solo CD project while she is living in Edmonton, Alberta Canada. She is also a gifted fiddle and vocal instructor.
Mingmei
Violin - Edmonton
Mingmei Xu obtained her bachelor of violin performance at Beijing in 2011. After graduating with honors, she became a professional violinist in Beijing Philharmonic Chamber Orchestra (2011), Beijing Oriental Holiday Symphony Orchestra (2013) and Beijing Legato Chamber Orchestra (2013). At that time, she also have worked as a specially-invited guest violin teacher at Gu AN Children Centre in Beijing, dedicated to furthering the popularity of violin art education. Many of her students have performed outstandingly in competition and gained admission as gifted students to the best primary and middle school in Beijing.
In 2015, she attended the MMus program at the University of Alberta, in Canada, where she is currently a master candidate under the supervision of Professor Guillaume Tardif. And she also involved as an orchestra and string assistant in Grandin Catholic School, Edmonton, combined with her string pedagogy course.
Vladimir
Violin / Viola - St. Albert
Brazilian violinist Vladimir Rufino received his Master of Music degree in Violin Performance from Azusa Pacific University (USA), Artist Certificate from Azusa Pacific University (USA), and his Bachelor of Music degree from the Universidade Federal da Paraíba - UFPB (Brazil). During his studies he participated in many music festivals and symposia in Brazil and United States such as the Starling-Delay Symposium on Violin Studies at The Juilliard School.
As a chamber musician and orchestra member, he has appeared in many stages around the world, such as Walt Disney Concert Hall (Los Angeles), and venues in various countries: Brazil, Argentina, Portugal, Germany, France, United States, and Canada. During his career, he has appeared in many occasions as concertmaster and soloist in front of different orchestras. Rufino is currently first violin of the Vaughan String Quartet, violin instructor at the Visionary College, and is pursuing the degree of Doctor of Music in Violin Performance at the University of Alberta.